Introducing the Exclusive Launch of Big Boost Casino in Collaboration with Kingbonus
When it comes to the fast-paced world of online casinos, opportunities to win big can come and go in an instant. But today, we're pleased to bring you an unprecedented chance to not only experience a brand-new casino but also win exceptional prizes. The much-anticipated Big Boost Casino, a sister casino to the renowned Casino Days and Lucky Spins, is making its grand debut in an exclusive partnership with Kingbonus.
Prize Distribution
For a comprehensive understanding of what you stand to win, we've prepared a detailed list of prizes below. It's our way of showing gratitude for your loyalty over the years, and what better occasion than the launch of a brand-new casino platform?
September 29th to October 3rd – 🎆Big Boost Casino Exclusive Launch Giveaway!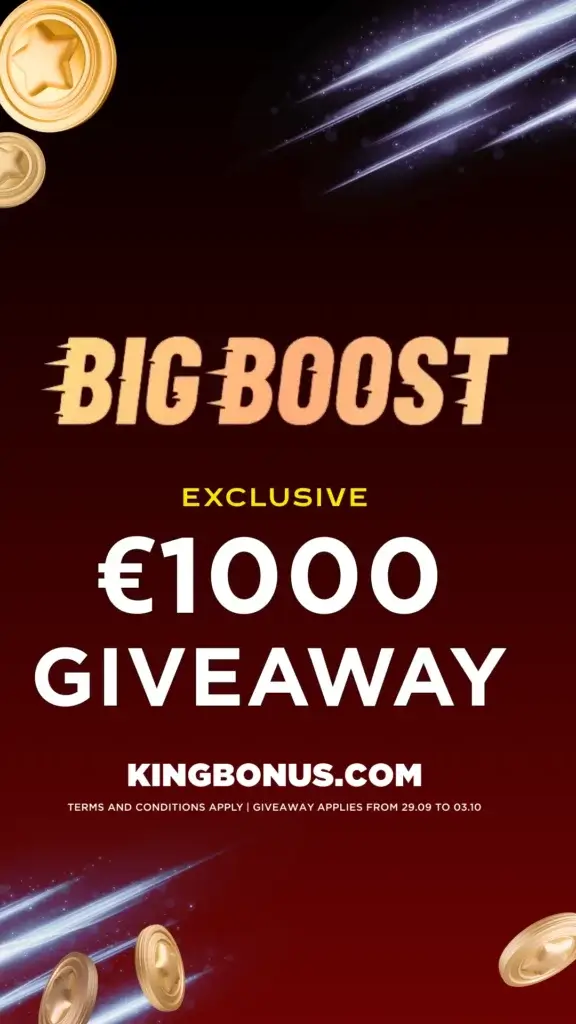 Deposit and play on Big Boost Casino for the chance to win your share of the prize-pool. Each €10 deposited gives you 1 raffle ticket. Prize Pool at Big Boost Casino is as follows:
🥇€300/3000kr Cash Bonus with 1x wager
🥈€200/2000kr Cash Bonus with 1x wager
🥉Three (3) €100/1000kr Cash Bonus with 1x wager
🍀Four (4) X €50/500kr Cash Bonus with 1x wager
🛞Twenty (20) Packs of 10 free spins with 30x wager
Sign up to Big Boost Casino to participate here!
Register in the simple form below to qualify for any of the prizes!
How Does it Work?
Simply put, the process is straightforward. All you need to do to partake in this one-of-a-kind opportunity is to register on Big Boost Casino via our associated links. Once registered, make a deposit to be eligible for the special raffle we're hosting. Each €10 deposited gives you 1 raffle ticket.
Don't Miss the Live Event
For those who enjoy the real-time thrill of gaming, we're adding another layer of excitement. The draw of the winners will be done Thursday 5th of October between 4 – 6 PM on KingbonusTTV on Twitch. It offers an interactive way to engage with the community, witness the draw, and, of course, discover if you're one of the fortunate winners.
Why Big Boost Casino?
While Big Boost Casino is the newest entry in the industry, it comes with a pedigree. As a sister site to Casino Days and Lucky Spins, you can expect the same level of integrity, fairness, and gaming innovation. This exclusive launch through Kingbonus is not just a promotional event; it's a testament to the enduring cooperation we've had over the years.
Don't miss this golden opportunity to dive into the next big chapter of online gaming. Register, deposit, and tune into KingbonusTTV for a weekend of suspense, excitement, and hopefully, some big wins.
We look forward to seeing you there.
How to Participate
Sign Up: Register an account at Big Boost Casino using our links. Don't forget to claim your welcome bonus!
Deposit and Participate: Each €10/100kr deposited gives you 1 raffle ticket.
Tune in: Watch the draw live on Twitch Thursday 5th of October.
Terms and Conditions:
Key Points about Kingbonus – Big Boost Casino Exclusive Launch Giveaway:
Registration: In order to be eligible to qualify for prizes in the Kingbonus – Big Boost Casino Exclusive Launch Giveaway, participants must be registered via Kingbonus at Big Boost Casino.
Age: Players must be over 18 years of age to participate. The crediting and subsequent withdrawal of prizes are subject to the standard KYC procedures at Big Boost Casino.
Prizes: All prizes will be directly paid out to the winner's gaming account at Big Boost. The gaming account must be active for the payout to occur. Please note that all cash prizes have a wagering requirement of 1x. Winnings from Free Spins have a wagering requirement of 30x.
Deposits: Tickets for the raffle are purchased based on deposits, and every 10 Euro deposit gives 1 ticket. Multiple deposits mean that tickets accumulate within the promotional period.
Join us for a incredible fun and exciting exclusive launch of Big Boost! Whether you're into slots, table games, or live casino action, we've got something for everyone. And with exclusive promotions and giveaways, there's never been a better time to join in the fun.