Welcome to the 2023 version of Kingbonus Tournament. An event that brings an extra layer of excitement to your online casino adventure. This year's tournament will kick off on Sunday, October 15, and we've made some noteworthy changes. Now, it's all about bonus buys, and requesting the slot that gives the biggest X-win in one single bonus buy round.
Every Sunday Afternoon on KingbonusTTV – Bonus Buy Tournament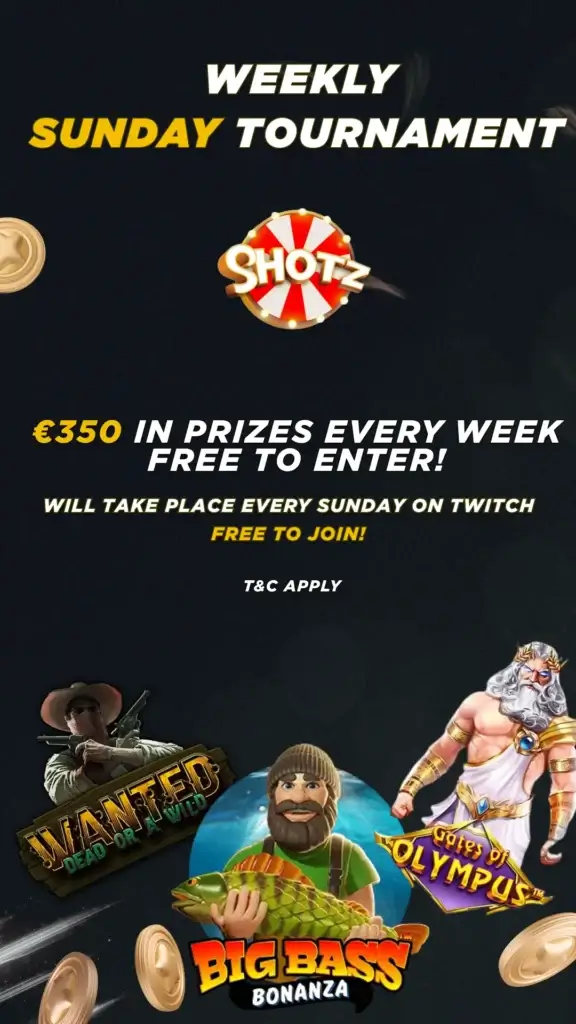 Prizes to be claimed every week
This time the weekly tournament rounds are definitive. This means that the winner of each week will not advance to a super-final like last editions of the tournament. Every Sunday will provide a brand new unique tournament for all to enjoy.
🥇 2000kr/200€ with 1x Wager at Shotz Casino
🥈 1000kr/100€ with 1x Wager at Shotz Casino
🥉 500kr/50€ with 1x Wager at Shotz Casino
Prizes are sponsored by Shotz Casino and will be credited to your gaming account.
Sign up to Shotz Casino to participate in the tournament!
The Bonus Buy Sessions will be held on our normal Betsson Brand partner Casinos
How to participate
The buy in to each tournament will allow 15 viewers to secure their spot through a redemption in Streamelements. The price of the buy in is 1000 Channel Points.
Redeem your ticket in our store to secure your spot here!
Alternative ways to participate
Secret viewer
The last and final spot to complete 16 participants each tournament is reserved to a secret viewer.
Each tournament will have a special slot saved for a random viewer. The special slot will be chosen by members in twitch-chat prior to the tournament. Viewers are encouraged to type their slot suggestion, and the most popular by analytics (hot mode) will proceed to participate in the tournament. If this secret viewer slot advance to the prize pool, the respective prize will be raffled out on the stream to a random viewer after the tournament is over. Requirements and terms and conditions for the tournament will still apply.
Mandatory presence on stream
All viewers that have purchased a spot in the tournament are required to be present in twitch-chat when their bonus buy is going to be played. Failure to report in upon the streamers shoutout will result in a loss of the spot. This includes loss of the points used for purchase. This rule is unconditional, and will not be modified for anyone. The lost spot will be raffled out for the present viewers on twitch. An activated raffle means the point of no return for the original holder of the spot to report in. No excuses whatsoever will be done for this rule.
Watch KingbonusTTV Tournament live on Twitch here!
Tournament Structure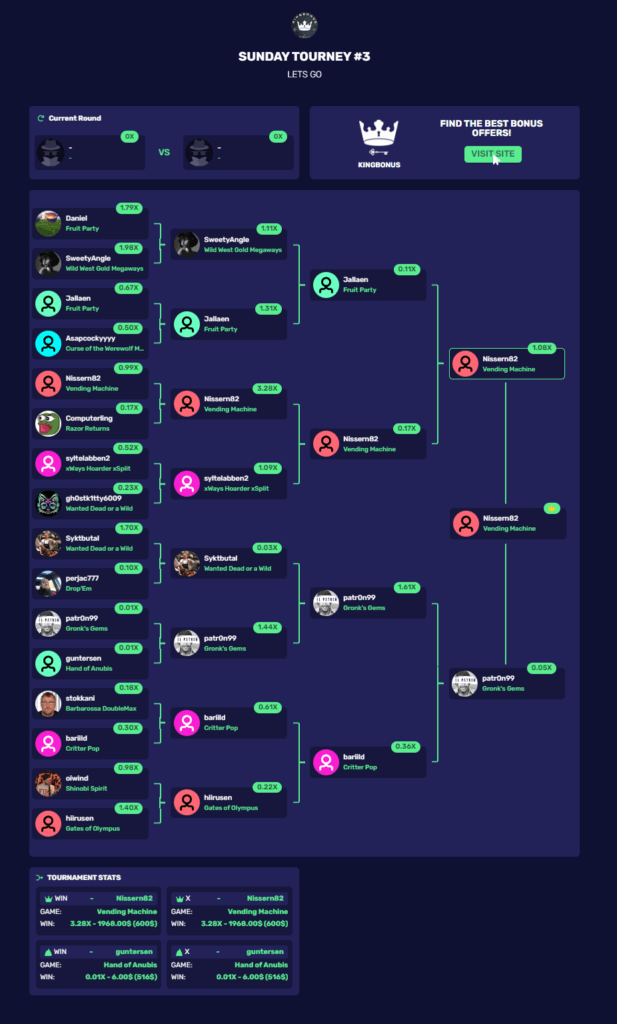 Much like a Cup tournament, this is an elimination-based contest. Players will engage in 1 bonus buy on a slot of their choice, up against a head to head battle with another participant.. Success will depend on the returns generated from the bonus buy. Streamers will determine the bet size relative to their available balance. Individual slots will compete against each other, one at a time.
Monitor the tournament
You can monitor the real time progress of each tournament on our new dedicated page for the Kingbonus Weekly Tournament.
16 Slots Each Tournament
Each and every tournament will be a single cup-competition, with finalizing results each time. Each tourney will hold 16 participants,
Rounds
Preliminary Round: 16 participants each week meets in 8 head to head battles.
Second Round: The 8 winners are narrowed down to 4.
Third Round: 4 participants are further trimmed to 2.
Final Round: Weekly prizes are awarded.
Bonus Buy Costs and Tournament Fairness
The Kingbonus Slot Tournament 2023 is designed to provide an engaging and fair competitive environment. A recurring question among participants concerns the variations in bonus buy costs across different slot games.
Different slots have varying bonus buy costs. For instance, the bonus buy for 'Fruit Party' by Pragmatic Play costs 100x the bet size, while the super bonus for 'Chaos Crew 2' is priced at 500x. These variations present a unique challenge in maintaining a fair competition.
The Solution: Normalized Profit Calculation
To counterbalance the varying bonus buy costs, we employ a Normalized Profit Calculation method. This approach equalizes the playing field by considering the ratio of the profit made to the cost of the bonus buy. Here's how it works:

Total X-win divided by the X-cost of the bonus buy x 100 will give the final normalized profit score.
Rules for the Tournament
The slot you chose needs to have bonus buy function activated on Betsson brand Casinos. It's your responsibility to verify this before you opt in.
The slot you chose needs to be able to play with active wager on Betsson Casinos for KingbonusTTV. We don't have a current updated list for the excluded titles, hence we can not guarantee availability for all requests.
The slot you chose for bonus buy will follow you through the whole tournament. It is not possible to change title.
There might be more than one tournament per stream/week.
Terms and Conditions on How to Participate
Required: You have to be registered on Shotz Casino through Kingbonus.
Required: You need to have made minimum 1 qualifying deposit on Shotz.
Required: Follow and watch KingbonusTTV on Twitch and earn points for buy in.
Required: Redeem your slot at our Twitch store: Kingbonus Twitch Store.
Required: Be present on our Twitch stream, which kicks off every Sunday.