A 500% casino bonus sounds massive. But this is actually a far more common offer than you might think. Many of our favourite casinos offer a 500% bonus on your first deposit. But how can you increase your chances of succeeding with this type of offer? Read our review of current offers and learn from our experts here at Kingbonus.
Exclusive 500% bonus up to €500 at Barz
The newest addition to our 500% casino bonus category might very well turn out to be the best bonus we've listed so far! Barz Casino and Kingbonus have come to an exclusive deal for readers and members of Kingbonus. The offer is a whopping 500% up to €500. The wagering requirements are 40x (d+b) which must be met within 30 days. This offer is almost too good to be true!
Get 500% up to €500 at Barz Casino!
How a 500% casino bonus works
The concept in itself is quite simple. You deposit a certain amount, and the casino adds 500% of this amount to your casino account. Even if maths isn't your strong suit, it should be fairly easy to figure out how much extra money you get from a 500% bonus offer. Just multiply your deposit by 5x to get the bonus amount.
Either way, this isn't the most crucial aspect you need to consider when accepting such offers. You need to read and understand all terms and conditions. That is, whatever is written in fine print. Kingbonus lists several different types of bonus offers. This includes the very popular 400% bonus, which you can read more about on our site.
In the table below you'll find the best 500% bonuses we offer at the moment, sorted according to our experts' instructions.

Deposit €10, play with €60
When it comes to 500% casino bonuses, the far most common offer to date is deposit €10, play with €60. In our experience, this is the perfect opportunity to test a casino. With a minimal investment you get the chance to win great prizes. Even though the maximum bonus amount in this example is €50, it's a 500% casino bonus. And yes, it's still a very good offer.
Is there a 500% bonus of more than €50?
Yes, they exist, but they are not as common as the more standard bonuses mentioned above where the max cap is €50. For example, Kingbonus offers a 500% bonus up to €500 with a wagering requirement of 20x only at NeonVegas. But you should be aware that this is an unlock bonus. Meaning, you have to complete the wagering requirements with your deposited money before you can withdraw the bonus amount.
However, if you manage to wager the entire sum, the bonus money is yours, and you can withdraw them at any time. If you didn't manage to complete the wagering requirement before running out of money, you can make a new deposit and continue where you left off.
Wagering requirements for a 500% casino bonus
There are several different variations, and you must always study the offer in question. Wagering requirements vary greatly from one casino bonus to the other, and there is no way of knowing what the exact terms are before reading them. However, this is where Kingbonus excels.
All casinos we review and add to our casino list are carefully examined by our experts. This means you don't have to read page after page of bonus terms to get the information you need. We highlight the important details for each offer so that you can easily check them.
Norgesspill offers 500% up to €50
Norgesspill is a well-known and very popular casino which offers a "deposit €10 and play with €60" type of bonus. This means you get a 500% casino bonus when depositing €10. You can always deposit more, but there isn't really any point in doing so, as this is the max cap. Norgesspill also offers another bonus if you think €60 is a bit on the low side.
You can also get a 100% welcome bonus up to €250. But you should consider this offer carefully before accepting, as the wagering requirements apply to both the deposit and bonus amount (d+b). If you prefer a sports bonus, you can get one of those as well. Specifically, the sportsbook offers a 100% bonus up to €25. In other words, Norgesspill offers many nice options.
Do wagering requirements apply to bonus amount only or d+b?
For a 500% casino bonus, you can usually expect the turnover requirements don't apply to the bonus amount only, but to d+b. This means that you have to wager both the deposit and the bonus money. That is, you have to wager the entire amount credited to your casino account. Since a 500% bonus is so generous, it's only fair that they add the deposited money to the wagering requirement. Otherwise it would have been fairly close to "free money". And you just don't get free money at an online casino.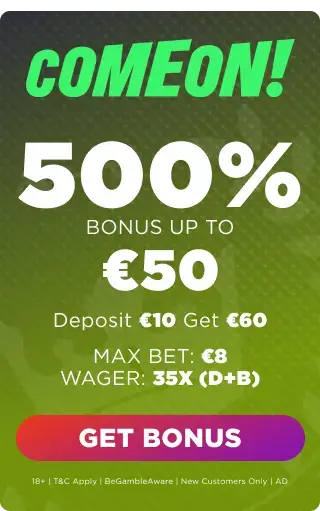 500% bonus at ComeOn and MobileBet
ComeOn offers a 500% casino bonus up to €50 for new players. This bonus can also be used to join Kingbonus' Wespin sessions. If you've never watched a Wespin broadcast before or think it's just too complicated, we can assure you it's not. Complicated, that is. And even better: When you join in with your bonus money, the streamer wagers it for you.
If you deposit €10, you get €50 in bonus money, and if you join a Wespin session, your wagering requirements will almost certainly be met when the broadcast is over. Other rules apply if you join a session where the streamer buys bonuses. For so-called bonus buy the wagering requirements are determined based on the following formula: 0.9x of purchases per 15-minute session.
Deposit €10 and play with €60 on ComeOn!
Mobilebet provides the exact same opportunities as ComeOn. Both when it comes to joining Wespin, as well as other products available on the site. At Mobilebet you can enjoy both slot machines, live casino, and sports betting. We'd especially like to mention Ruby, their own live casino lounge. You might start to wonder what's the difference between these to casinos. At a first glance, the only difference is the colour schemes.
Truth is, the biggest difference between these two casinos is their target audience. While ComeOn targets players from different countries from around the world, Mobilebet focuses on the Nordic region. This also explains why the former has a much larger player base.
Deposit €10 and play with €60 on Mobilebet!
The Saga Jackpot at Saga Kingdom
Have you ever heard of "The Saga Jackpot"? This gigantic progressive jackpot is extremely popular amongst casino players. If you register at Saga Kingdom, you can pursue this jackpot with a bonus boost of 500%. Like all other ComeOn casinos, the max bet while playing with bonus money is at an impressive €10. This means you can actually bet the entire deposit plus bonus money in just six spins without breaking the rules. However, we do not by any means recommend such an approach. Make sure you always play responsibly.
Secure your 500% bonus at Saga Kingdom!
500% unlock bonus at Neon Vegas
This is the biggest 500% bonus listed on our site. With 500% up to €500, this bonus is unique in more than one way. First of all, you should be aware that this is an unlock bonus, meaning you have to wager your deposit before you get the bonus money. This means you can make several deposits if you run out of money. Also, when the bonus money is credited, it's already converted into real money.
However, it's important to understand what you're getting yourself into. Since this is an unlock bonus, you won't get the bonus amount upfront, so you won't have extra money to play with.
Get a 500% bonus at NeonVegas!
Frequently Asked Questions
What does a 500% deposit bonus mean?
A 500% deposit bonus simply means that the casino adds 500% of your deposit as bonus money.
What is the most common type of 500% bonus?
The most common 500% bonus we promote is without a doubt the "deposit €10 and play with €60" bonus.
Which casinos offer a 500% bonus to new players?
Many online casinos offer a 500% welcome bonus. This includes all casinos from the ComeOn Group and several casinos from Betsson. Read the article for more information.