Requirements for wager
All deposits made at a online casino have a wager attached to them. Therefore, it is essential for a gambler to know exactly what this wagering requirement entails. We at Kingbonus often find that our members ask about this. That's why we find it appropriate to dedicate an easily understandable and educational article on the topic of wager.
Wager
The actual word 'Wager' means 'betting on an unpredictable event.' In other words; a bet. Wager can also sometimes be referred to as 'Rollover' or 'Requirement'.
All deposits have wagering requirements As we mentioned in the introduction, all deposits at an online casino have wagering requirements attached to them. Both deposits without a bonus (raw money) and deposit bonuses must be wagered a certain number of times. The first (raw deposit) usually must be wagered once (1x).
Why is it like this?
The Anti-Money Laundering and Counter-Terrorism Financing Act (AML/CTF Act)
The AML/CTF Act was introduced in the United States in 2004 and has since been implemented by most countries worldwide, including Europe. The complexity of today's internet-based society makes monitoring financial transactions across borders very comprehensive.
As a result, casinos and gambling platforms are at the center of attention. Historically, gambling and casinos have been associated with crime. Without going into detail, we are, of course, talking about the Mafia. However, the significant difference between how it was 80-100 years ago and today is that gambling was the Mafia's primary source of income back then. Today, the most significant problem is money laundering from other criminal activities, such as drug trafficking.
Enough history. What applies to me?
Below we discuss the most common types of wagers you will encounter when playing at online casinos.
Deposit without bonus
Normally you have to wager your raw deposit 1x. If you deposit €100 without a bonus, you must play the entire amount at least once for a 1x requirement. If you spin 100 spins on any slot with a €1 bet, you have fulfilled the requirement, and you can withdraw any winnings.
Deposit with bonus
Depositing with a casino bonus in the form of a welcome bonus or any deposit bonus you receive from the casino is by far the most frequent way we deposit at a casino. It is each customer's responsibility (i.e., you) to read and understand the casino's offer. This is usually referred to as bonus terms or bonus terms and conditions. There are many variations, but to simplify, we list two common ones:
Bonus with 35x wager on bonus only
In this case, only the received bonus money must be wagered. If you receive a 1000 kr bonus, it must be played at least 35 times to convert it into real money to make a withdrawal. 35×1000 equals 35,000 kr.
Bonus with 35x (d+b) wager
(d+b) stands for deposit + bonus, which means that both your own money in the form of your deposit and received bonus money must be wagered 35 times. If you fully utilize an offer of, for example, a 100% deposit bonus up to €100, the calculation would be: (€100 + €100) X 35 = €7000. This means double the amount compared to the first example.
A few years ago, (d+b) bonuses were usually only seen in offers that were above 100%. For example, a 500% bonus. Unfortunately, today many casinos use deposit+bonus for 100% deposit bonuses as well.
Winnings from free spins
Winnings from free spins received from a casino usually come with a wagering requirement. If you receive 100 free spins on, for example, 'Book of Dead' and win €30 from them, those €30 must also be wagered. The number of times this must be done depends on the casino, and you must read the bonus terms to understand this. A typical requirement could be 30x. In that case, you must wager €30 X 30 = €900 to withdraw the winnings.
Other bonus requirements besides wager
A bonus offer is usually evaluated based on the wagering requirement alone. However, there are other factors to consider before you can say for sure whether the offer is good and whether the requirements are manageable.
Max bet
Max bet, or maximum bet per spin, is an important part of a bonus package. In today's market, €5 bet per spin has become a kind of default value for max bet. However, we find everything from €1 to €10, and even some sites without max bet restrictions. That means you must pay attention here.
Games that do not contribute to the wager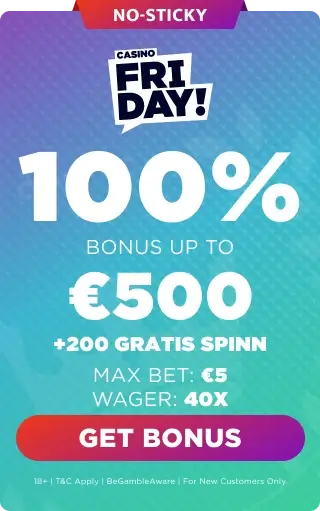 These are slots that you can play with bonus money, but as the name suggests, they do not contribute to the wagering. Therefore, you will be at a standstill in relation to the wager. It is quite self-explanatory, and each casino has an updated list in its terms and conditions of which slots these are.
CasinoFriday might be the casino with the best control functions to prevent you from breaking the bonus terms
Prohibited games and slots
Games that are prohibited from playing with bonus money are a classic. The number and which games are on this list can be found in the terms and conditions on the site you are playing on. The most important thing here is whether the casino has a function that actively blocks the slot if you try to open it with bonus money in your account. This is a very good indication of the seriousness of a casino in this regard. A typically serious and good casino has a relatively short list of prohibited games and, of course, a function that does not allow you to play them with bonus money. This is something that reviewers are very conscious of.
We here at Kingbonus initially tried to include the list of games that do not contribute to the wagering and prohibited games in our reviews. We quickly found out that it is an almost impossible task. So, each player must follow up themselves.
Live casino and game shows
Live casino games and so-called game shows like Crazy Time, Monopoly, and Gonzo's Treasure Hunt usually have a separate paragraph in the bonus terms that shows how much they are valued compared to the wager. This, of course, varies from casino to casino, but typically we expect to find something like:
All table and Live Casino games: 50% (or even less like 10%)
Bonus abuse
If you violate any of the requirements we mentioned above while having an active bonus on your account, you risk the casino confiscating all your winnings and your money. In other words, you lose everything because you breached the agreement you accepted.
In addition to everything we have listed above, casinos will monitor your play with bonus money to look for other types of bonus abuse. This category is a bit more ambiguous, and once again, the seriousness of the casino will be decisive. A typical example could be what is often referred to as irregular betting patterns (hedge betting). For example, if you play both red and black in a single roulette game round, this will be perceived as bonus abuse.
You have to win to beat the wager
Winning is what everyone is after when they deposit money at a casino. It goes without saying. But how much you have to win, and how long you have to continue playing with a reasonable result to complete the wagering requirement depends on the offer you received.
Kingbonus is your best guide
All casinos we review and publish in our casino list will show the wagering requirements associated with the welcome bonus. In addition, we write much more detailed information in the actual review for each casino than any other site. Like what the individual requirements for other bonuses, promotions, or offers might be. We are experts in this, so you should seriously consider to take note of what we write.