KingbonusTTV Presents: Casino Giveaway at SpinFever Casino!
Join us for some eventful days beginning from Friday November 10th, lasting to Wednesday November 15th for non-stop entertainment, giveaways, and live streams, brought to you by Kingbonus and SpinFever Casino. Get ready for many hours of action-packed content for several days!
Register on SpinFever Casino here! Make sure you grab the Welcome Bonus!
✨ Highlights of the Giveaway✨
Total of €3000/30 000kr Cash Bonus Prizes with only 1x wager
SpinFever Socks Merch Giveaway during the campaign period
Friday November 10th to Wednesday November 15th – 🎆 SpinFever Casino Giveaway!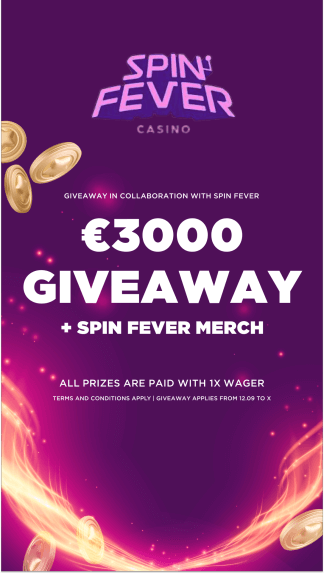 Kingbonus and SpinFever Casino has teamed up for an insane giveaway. The only thing you have to do for a start, is to tune in to KingbonusTTV on twitch, and watch us live. And did we mention that we will be giving away SpinFever Merch as well? Now you know, and you have absolutely no excuse to not show up and get the chance to win big prizes on SpinFever. Please refer to the complete list of prizes below.
Sign up to SpinFever Casino to participate here!
Deposit and play on SpinFever Casino for the chance to win your share of the prize-pool. Each €10 deposited gives you 1 raffle ticket. Prize Pool is as follows: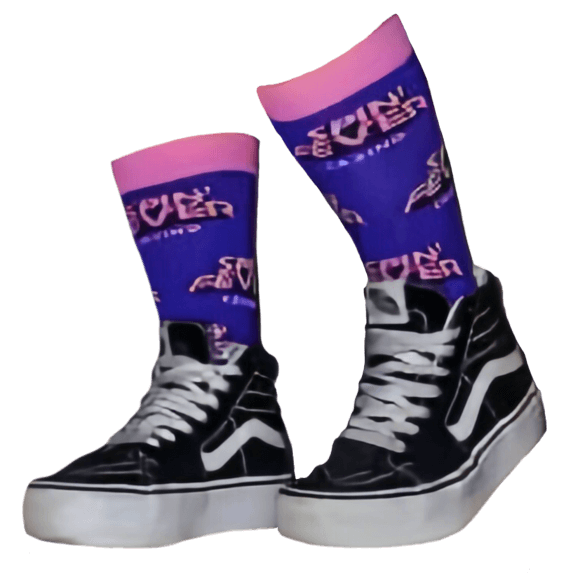 🥇€1000/10 000kr Cash Bonus with 1x wager
🥈€600/6000kr Cash Bonus with 1x wager
🥉€400/4000kr Cash Bonus with 1x wager
🍀4th Place: €250/2500kr Cash Bonus with 1x wager
🎁5th Place: €200/2000kr Cash Bonus with 1x wager
🛞6th Place: €150/1500kr Cash Bonus with 1x wager
🎆7th Place: €100/1000kr Cash Bonus with 1x wager
🎆8th Place: €100/1000kr Cash Bonus with 1x wager
🎆9th Place: €100/1000kr Cash Bonus with 1x wager
🎆10th Place: €100/1000kr Cash Bonus with 1x wager
SpinFever Socks Merch Winners
SpinFever Casino has sent us some very nice merch in form of socks. We will raffle out on stream a total of 8 pair of colourful SpinFever socks + 1 pair will be awarded to an Instagram user that follows our Instagram channel. Further instructions how to participate will be given there and in discord.
Register in the simple form below to qualify for any of the prizes!
How to Participate
Sign Up: If you haven't already, register an account at SpinFever Casino using our links. Don't forget to claim your welcome bonus!
Tune In: Follow us on KingbonusTTV, and tune in for our live streams during the weekend, lasting until Wednesday next week.
Deposit and Participate: Each €10/100kr deposited gives you 1 raffle ticket.
Terms and Conditions:
Key Points about Kingbonus – SpinFever Giveaway:
Registration: In order to be eligible to qualify for prizes in the Kingbonus – SpinFever Stream Giveaway, all participants must be registered via Kingbonus at SpinFever Casino.
Age: Players must be over 18 years of age to participate. The crediting and subsequent withdrawal of prizes are subject to the standard KYC procedures at SpinFever
Prizes: All prizes will be directly paid out to the winner's gaming account at SpinFever. The gaming account must be active for the payout to occur. Please note that all cash prizes have a wagering requirement of 1x.
Deposits: Tickets for the raffle are purchased based on deposits, and every 10 Euro / 100 kr deposit gives 1 ticket. Multiple deposits mean that tickets accumulate within the promotional period.
Join us for a few days of incredible fun and excitement at SpinFever Casino! Whether you're into slots, table games, or live casino action, we've got something for everyone. And with exclusive promotions and giveaways, there's never been a better time to join in the fun.