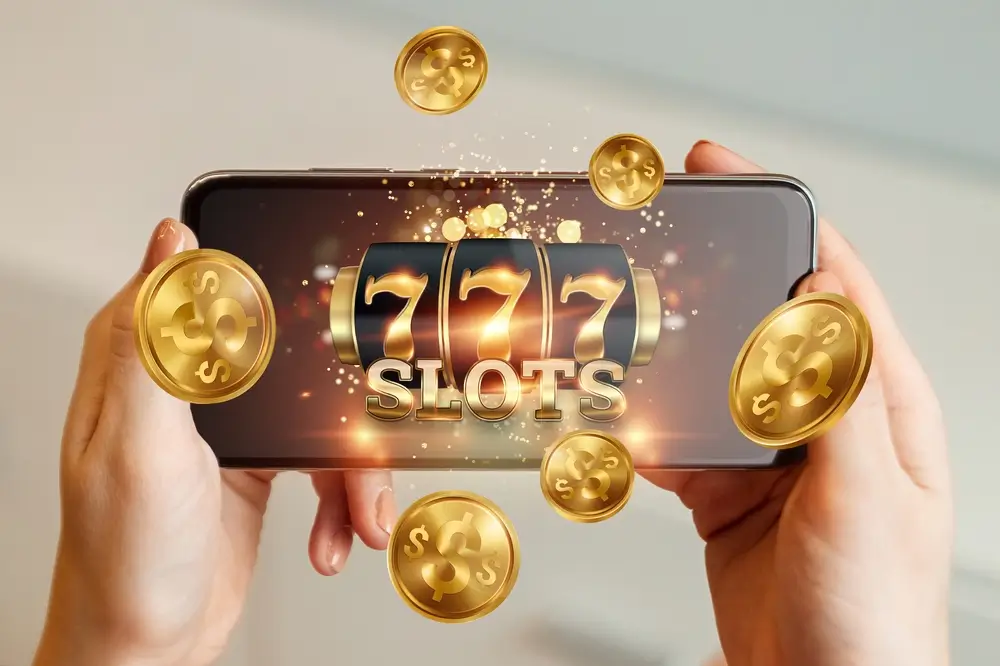 Slots at online casinos
Welcome to Kingbonus' ultimate guide to the best slots at online casinos. Finding an online slot is the least of problems, but how can you tell which one is best for you? Before you go ahead and pick a random slot machine, it's a good idea to learn a bit about how slots work.
When you visit a casino lobby, you are usually spoilt for choice – there are more games and more categories than you can count. Different categories include recommended slots, popular slots, exclusive slots and so on. If you don't know what you're looking for, you often end up just taking a random pick. Have you ever considered that this might be exactly what the casino wants you to do?
You shouldn't assume that the casino will just hand you the best slots on a silver platter. But you can count on us here at Kingbonus to help you find the best online slots.
The best slots online
Before getting to the point where you can choose which slot to play, you've likely faced several dilemmas. What casino should you choose? What casino bonus is best, and what deposit method should you use? The vast array of choices can make your head spin, but it might very well be worth the hassle. In the end, you get to choose between all the different slots and try your luck spinning the reels. Keep reading, and we'll help you find the best slots online. We'll also have a closer look at different slot features and types of slots.
RTP in slots
RTP, short for "return to player", refers to the theoretical rate returned to players in the long term. The average RTP value is around 95%, but you'll find some RTP values as low as 84% or as high as 98%. So, there's no denying that RTP values varies greatly. The difference between 100% and the stated RTP for a slot is referred to as the house edge. Given the average RTP value of 95%, the house edge is about 5%. However, the most important thing to note is that the RTP value is calculated based on a simulated return over millions of spins.
It's quite easy to figure out which slots have the highest RTP value. But it depends on which casino you use. At some casinos, the RTP value is shown in the slots' lobby thumbnail, while others require you to check the game menu after opening the slot. Either way, a high RTP alone is rarely a good indicator.
To figure out whether or not a slot is worth your time (and money!) you should also consider aspects like volatility and hit frequency. Do these terms look daunting? We can assure you that you'll get to know these well as you play. You will also notice a difference in how slots behave, based on the game developer who made them. Below you'll find a list of slots with the highest RTP values.
Slots online
The total number of slots offered at different online casinos varies quite a bit. As a rule of thumb, more game developers mean more slots in total, but this isn't always the case. This stems from the fact that some operators choose to offer only the newest and most popular games from different providers. If there's an old slot machine that hardly anyone uses, it's removed to make room for something new.
The largest casinos offer lots of options, both in terms of game developers and slots. Hollycorn NV currently leads the pack with more than 10,000 slots. They run online casinos such as Lucky7even and Bitdreams, among others. They have partnered up with between 120 and 130 providers, meaning the selection is enormous. Another operator known for having a large selection of slots is Dama NV. Both Zoome Casino and SpinFever offer around 8,000 slots from around 120 game developers.
Variance and volatility
The terms variance and volatility are used interchangeably, however most sites online seem to prefer the latter. Either way the important thing is to understand what a slots' volatility means for you as a player. In short, it represents how often a slot machine triggers a win and the general size of the win. Generally, a slot with high volatility pays rarely but big, whereas a slot with low volatility pays more often but the payouts are smaller.
Due to the increased focus on volatility lately, many casinos have chosen to tag their slots so that players easily can see the potential of each slot. This is of course a huge benefit for players, and something we greatly appreciate. All slot providers offer information about their games' volatility. But if you're a newbie and don't quite know how to find this information, it can be a bit complicated.
RTP and volatility
It's important to measure RTP up against volatility. Certain providers, such as NoLimit City and Hacksaw, are known to design slots with high volatility. At the same time their slots have high RTP (return to player), typically around 96 to 97%. It can be frustrating to get small wins on this type of slot. But you can also get lucky and win huge sums of money.
Hacksaw Gaming, a provider that has become hugely popular recently, states that the RTP value for their slots are determined by a simulation of 10 billion consecutive spins. With this in mind, it's a bit easier to understand the correlation between RTP and volatility.
History of slots
Before moving on to look at slots as we know them today, we feel the need to look back at some history. About 130 years have passed since the very first gambling machine was launched in the US. This machine was nothing like the ones we use today, thanks to massive development throughout the years.
One-armed bandit
The first slot machine dates back to somewhere between 1887 and 1895. It has a relatively simple design with 3 reels and 5 different symbols. The name "one-armed bandit" derives from the machine construction. It has an eye-catching lever, or "arm", used to initiate the spin after having placed the coin. "Bandit" is believed to originate from the fact that the owners were known to adjust the RTP to their advantage. Or, that the machine took all your coins if you didn't win. The name "slot" comes from the actual slot where players inserted their coins.
First electronic slot
Bally's "Money Honey" was the first ever electronic slot, launched in 1963. The biggest difference wasn't the game mechanism itself, as this was still mechanical. However, the Money Honey had an electronic coin system which made it possible to keep more coins inside the machine. This meant that the jackpot payout could be much larger. At that time, hitting the jackpot literally meant winning all the coins.
Video slots
The first video slot was launched in 1976. This was a major breakthrough for land-based casinos, and soon these slot machines occupied 70% of the floor space in casinos worldwide. They also accounted for 70% of the turnover. The most revolutionary about these slots was the inclusion of multimedia, meaning features and bonuses could be incorporated into the games.
Online slots
In the early 90s, as the internet became more and more widespread, the idea of online slots was born. The enormous success seen with slot machines at land-based casinos was quite easy to transfer online. Video slots already existed and formed the basis for online slots. However, the public's general scepticism of trusting their money to a virtual casino meant it took years before it became a success.
Today "online slots" is a term that covers a large and diverse range of features, themes, and layouts. And they are constantly under development. One thing all slots have in common is that they require no skill to play. As long as you're able to hit the spin button, you're basically good to go.
The very first online slot
Microgaming designed the very first online slot, back in 1994. Of course, this was a completely different concept compared to today's slots. Recently, Kingbonus spoke with one of the four people in the Microgaming team that created the very first online slot. You can read the interview here.
How does a slot work?
There doesn't seem to be any end to the creativity shown when designing new slots. Nevertheless, some basic features tend to be included in almost every online slot. Below we briefly explain the generic features.
RNG mechanism
A Random Number Generator (RNG) ensures a fair chance of winning. Both physical and online slots are powered by a random number generator that has been certified by independent auditors for fairness and functionality. The RNG technology ensures that each spin is independent of previous as well as future spins. This means that every time you spin the reels on a slot, the chance of winning is the same.
The reels
Slot reels are the vertical columns with different symbols, eventually showing one specific symbol on each position when the reels have stopped spinning. The reels' behaviour is programmed in the software, including the graphics, the symbols, and the probability of landing them.
Paylines
The number of paylines can vary between 1 and more than a million. When playing classic slots, you'll often see 5, 10 or 20 paylines. However, in modern and more innovative slots, this number can vary greatly. In some slots, the number can also vary from one spin to another, for example in so-called Megaways slots. In these slots, the paylines are often referred to as "ways".
Paytable
All slots have a paytable which tells you everything you need to know about symbols and the payouts for each winning combination. The paytable is normally available in the slot's information menu. Remember that most slots show the potential payout based on the current bet.
Bet limits
All slots have a minimum and maximum bet limit. This limit may vary somewhat from one casino to the other. Usually, the limits are both low and high enough to cater to most players. The bet limits normally vary from €0.10 to €100 per spin.
Wilds and scatters
Most online slots have both wilds and scatters. Wilds substitute for any other symbol, apart from the scatter symbol. They come in different forms and can land with a multiplier or as a stacked symbol covering the entire reel. Expanding and sticky wilds are also quite common. Scatters normally trigger a bonus round or another feature. How many scatters are needed and where they have to land can vary, but often 3 or 4 scatters are sufficient.
Free spins and bonus rounds
All players cross their fingers and hope to land enough symbols to trigger the free spin round. The number of free spins given is usually determined by how many scatter symbols you land. Sometimes you get extra free spins by landing more scatters, while other times it means bigger wins. For example, there are classic slots where you get a huge win for landing a scatter symbol on each reel. In these cases, you are guaranteed a large payout before the bonus game even starts.
Bonus buy
The bonus features in online slots are so popular that most providers today give players the option to buy them directly, without spinning the reels. This of course means a higher price compared to triggering the bonus feature in a regular spin. We have seen prices from 80x the total bet up to an insane 3000x the bet. Generally, you can expect to see a bonus buy offer for around 100x.
Video slots
Video slots are by far the most common type of slot machine you'll find at an online casino. We've seen massive development in this field in recent years. Graphics, sounds, effects, and features are now presented in a way never before seen. Slots today can be considered as full entertainment on par with Hollywood movies or computer games. The only difference is that you bet money and have a chance of getting a return.
Max payout
The vast majority of online slots today have the potential for huge wins. Therefore, most game developers choose to set a max cap for winnings, predefined as X times the bet. This limitation will vary depending on the provider, but typically we're talking about 5,000x, 10,000X and 50,000X the bet. In some rare cases we've seen numbers as high as 300,000X.
Since you get to choose your bet amount, the maximum win is usually stated as X times the bet. But you don't need to be a maths wiz to understand that a stake of merely €1 can potentially generate huge profits.
Which slots should you play?
This is a difficult question to answer. Online casino players have access to more than 15,000 different slots from more than 400 providers. This means there are so many games to choose from that it's hard to decide.
If you don't know what to look for, your best bet is to consider the titles presented when you first enter the casino. If you don't know any particular slot you'd like to try, or if you don't have much knowledge about the different game providers, an easy solution is to just choose from whatever is listed on the landing page. Below you'll find the most popular game categories which you're likely to find in your chosen online casino:
Popular slots
This category is added to the landing page of basically all online casinos. Here you'll find the most popular slots played worldwide. Unbelievably, the same two titles have topped this list for several consecutive years. This implies that players tend to choose slots from our top lists. Independent sites that measure all slot activity can confirm that this reflects reality.
New slots
For those of us who are experienced in the world of online casino, new slots are of great interest. New slots are launched almost every single day, and what's so unique about this category is that the biggest and most anticipated launches can end upside by side with a title from a completely unknown studio. We are very happy to test new and unknown suppliers, but it's important to be critical. Not all games are equally good.
Jackpot slots
Jackpot slots are immensely popular, and there's no doubt that winning a progressive jackpot is any players' biggest dream. Most casinos have slots where you can hope to win the big progressive jackpot. The biggest and most popular ones are Mega Moolah, WowPop Mega, Major Millions and Mega Fortune. All these have potential payouts of more than ten million euros.
Recommended slots
Most casinos offer a collection of recommended slots. We choose to believe that the platform has an algorithm that recommends slots based on your playing history. If you're new at the casino, this category may therefore be misleading. You should also consider the possibility that the casino adds "recommendations" based on what they want you to play, i.e., based on earning. Therefore, it's not always wise to trust this category blindly. Always be a bit critical of the proposed games.
Exclusive slots
The biggest online casinos often offer exclusive slots. There is usually a period of 1-2 weeks where they offer brand new slots exclusively to their players before the games are launched to the rest of the public. Such cooperation between operators and developers are usually quite lucrative.
Big launches from well-known providers are often highly sought after by many players. Therefore, operators who launch exclusive slots can get many new customers through promotions like these. It goes without saying that the biggest iGaming groups with the most money in the bank can afford such exclusive agreements.
Branded slots
Some of the biggest casinos also offer slots developed in-house, so-called "branded slots". These slots normally have the casino's name either in the theme or title. They are usually re-skins of other popular games. This means that they take an existing slot and reuse it with different symbols, theme, and colours. Which is generally what most game developers do when it comes to regular launches as well.
Crypto slots
iGaming with crypto currencies have become increasingly popular, which partly explains why we've seen a lot of crypto slots developed in-house. The most well-known of these are so-called crash games, where you just choose a bet and then try to cash out before the game crashes. In fact, this concept is quite similar to regular crypto investment, in that whoever manages to keep their cool and avoid withdrawing too early gets the biggest gain. Just to possibly lose everything in the crash that will eventually follow. Anyway, the increased popularity means that you can now also find these slots at ordinary casinos which do not accept crypto payment.
NFT slots
The NFT concept is still in its infancy, while the newest crypto casinos are about to launch on the WEB 3.0 platform. The first NFT slot was released in May 2022, but this slot type is still quite rare. They can have distinctive features, however all of them give you the opportunity to win coins for exclusive NFT launches.
When the fun is over
Playing slots at an online casino is both exciting and fascinating. Online slots are designed to keep you stimulated, entertained, and constantly wanting to play more. Thus, gambling can be very addictive, and this is why it's very important to set some ground rules when playing.
Be sure to keep track of time, and do not chase your losses. It's especially important to avoid playing with money you cannot afford to lose. Also, never borrow money from others to gamble. These guidelines are important to remember, and if you find yourself struggling with them, it's a good indication that you may have or have started to develop a gambling problem.
Frequently Asked Questions
How can Kingbonus help you find the best online slots?
Kingbonus has a separate section for slots where you can read reviews and get a preview of what features and bonuses you can get. We also tell you where you can play the recommended slots. If you've never played at a given casino before, it's always a good idea to register via Kingbonus. Our deals are often exclusive, and we provide excellent care for our members.
In addition, Kingbonus has partnered up with several game developers, and we often receive first-hand information about planned launches. There will definitely be more promotions and launches in the future. So, you have every reason to check in at Kingbonus.
Which slots have the biggest win potential?
There is no correct answer to this question. But there are many slots online that have enormous winning potential. We have seen this again and again when players have actually managed to hit the big jackpot. For example, we can mention Tombstone RIP which has a confirmed max win of 300,000x. And of course, Money Train 3 with a max win of 100,000x.
Having said that, there is every reason to be careful and responsible when playing slots at an online casino. As with all casino games, slots are developed so that the more you can win, the higher the variance or volatility. Simply put, this means that even if the winnings can be massive, there will be few of them, and several small wins along the way.
Thus, it's very important to play responsibly and never bet more than you can afford to lose. You should also take long breaks either you win or lose. If you feel it's no longer fun to play, you should stop playing immediately. If you're having problems stopping, you should seek professional advice. You can read more about this at Kingbonus under responsible gambling and gambling addiction.
What are slots, and is there any difference between online slots and their land-based versions?
Slots is a collective term used for gambling machines. This includes everything from the first one-armed bandit in around 1887 to today's modern video-based slots. You can find both game types in online casinos and land-based casinos around the world. There is no fundamental difference in the mechanics and software between a physical machine in a land-based casino and an online video slot.
The physical presentation is of course different, and everyone who has tried pulling the lever on an actual one-armed bandit know that this is quite a unique experience. Land-based casinos are also doing a better job at linking progressive jackpots to their slots. But the basics are exactly the same.
What are the best slots to play at an online casino?
This is impossible to answer, as it depends on personal preference. The possibilities are endless, and on today's market you'll find anything from original classic slots to super modern editions. Do you prefer spinning in anticipation, or do you want to buy access to bonuses? There are many factors to consider. The most important thing is to make sure you consider slots and casinos as mere entertainment and nothing else.
Remember to play responsibly and never bet more than what you have decided on in advance. Winning big is just a bonus. Kingbonus knows everything there is to know about slots and online casinos, and we are much more than an affiliate. We are casino enthusiasts with whom you can both discuss different topics and ask questions. We review everything related to casino, both slots, bonuses, and new online casinos.
We thoroughly test and evaluate during our revision process. This is especially true when reviewing new casinos. We are experts on user terms, so that you can read our easy-to-understand reviews instead of trying to navigate the casino's endless terms section.